2017 Montrose Triathlon Raises over £3000 for Tayside Mountain Rescue
03 Aug 2017: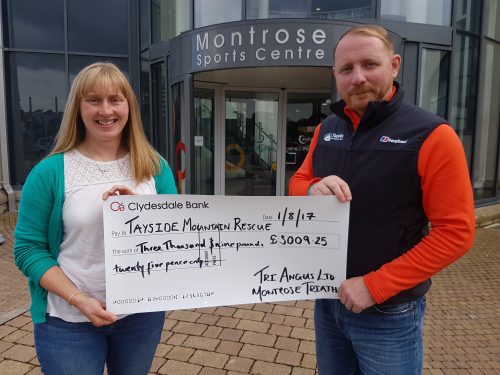 Following the successful Montrose Triathlon on Sunday, 4 June 2017 event organisers Tri Angus Ltd are delighted to announce an impressive £3009.25 has been raised for Tayside Mountain Rescue (TMR).
Event participants were given the chance to raise funds in three ways.  Thirteen participants were given the chance to join "Team TMR" and raise funds for the charity via sponsorship from friends, family and work colleagues.  Participants also donated generously when they signed up to take part in the event and finally, local sports massage therapists from Sattva Wellness took donations in return for a 15 minute post event rub-down to help sooth any aches and pains!
This was the first year the two organisations had partnered for the Montrose Triathlon and it is hoped it won't be the last.  In addition to being the event's official charity partner, Tayside Mountain Rescue provided a team of 6 volunteers who provided first aid cover at the triathlon, meaning all the participants and volunteers were in very safe hands, should they need it, on the day.
Maggie Lawrie, Race Organiser, commented "We are very pleased with the total raised this year!  Everyone has been so generous and I know Tayside Mountain Rescue are very grateful for the support the event participants have shown".
Paul Russell, Tayside Mountain Rescue Team Deputy Team Leader commented "We were delighted to be have been chosen as the partner charity  for The Montrose Triathlon and thank everyone for the financial support given towards the life-saving work TMR Team deliver – from the sponsored participants that raised money for the Team, to the massage girls who donated their time for free. We are appreciative of all donations which go to designated expenditure and operating costs – these funds really do make a difference.
"Our voluntary team members have been providing an emergency service in the region for over 40 years, and deal with a wide variety of incidents from searches for vulnerable or distressed members of the community, to technical rescue, and those injured in remote areas such as climbers, winter mountaineers and remote workers."
Plans are already underway for the 2018 Montrose Triathlon and the date will be announced in the Autumn so watch this space…!