Club Receives Donation from Tri Angus Ltd
27 Aug 15:  Montrose Triathlon Club has this week benefited from a donation from local social enterprise Tri Angus Limited (Ltd).  The cheque was presented to Club Chairman, Mike Talbot, at their Monday night swim session at Montrose Sports Centre.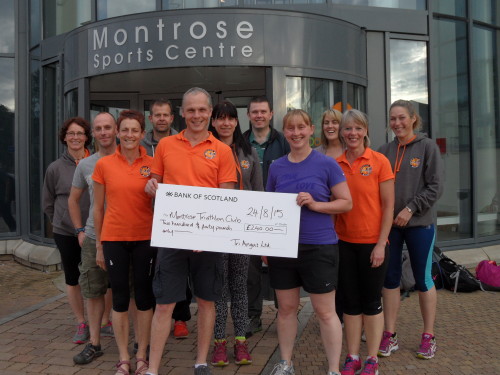 The funds will be used to help support another club member through the first stage of the Triathlon Scotland coaching qualifications.  This means the Club, which was only formed in October 2014, now has six UKCC Level 1 triathlon coaches – no mean feat for such a new club.
Tri Angus Ltd, the organisers of the Montrose Triathlon, are delighted to be in a position to make the donation.  Director Maggie Lawrie commented "This is the second year we have been able to support Montrose Triathlon Club financially following the Montrose Triathlon.   As a not-for-profit social enterprise our aim is to grow the sport of triathlon in Angus and assisting clubs in this way allows us to help achieve this aim.
"We had another successful event this year with support from both the local community and local businesses.  It is as a result of this support that we are in a position to make this donation to Montrose Triathlon Club".
Montrose Triathlon Club Chair, Mike Talbot commented "It's great that Tri Angus can continue to support the club. This donation will benefit the club by putting one of our members through the Triathlon Scotland Level 1 coaching course which in turn, allows us to continue to deliver quality coaching to our members."
The 2015 Montrose Triathlon was another great success and the date for the 2016 event will be announced over the coming months.  For more information visit www.triangus.co.uk.   For further information about Montrose Triathlon Club visit www.facebook.com/montrosetriathlonclub.