DATE CONFIRMED FOR 2018 MONTROSE TRIATHLON
09 Nov 17:  Tri Angus Limited is delighted to confirm that the 2018 Montrose Triathlon will take place on Sunday, 3 June 2018.  Entries for the event will open on Monday, 15 January 2018.
The event continues to grow from year-to-year with over 400 people registering for the 2017 event, the highest number to-date, and entries selling out within hours of opening January.  The event again received very positive feedback and organisers Tri Angus Ltd look to continue to build on this.
The Montrose Triathlon, which will be in its 5th year, continues to attract a real mix of abilities from complete beginner (40% of 2017's participants were taking part in their very first triathlon) to seasoned triathletes.
The event will again be based at the superbly equipped Montrose Sports Centre.  Participants will have the option of taking part in either the novice or sprint distances.  The novice event is ideal for those new to triathlon while the sprint distance is for those with a little more experience or who are a little more daring!  Full details of the routes and the distances involved in the swim, bike and run are available on the Tri Angus website (www.triangus.co.uk).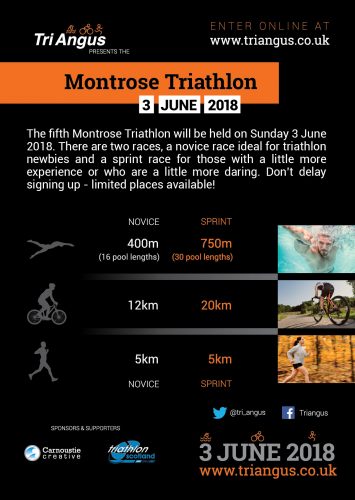 Entries are expected to fill up very quickly so anyone who would like to take part is encouraged to sign up early to avoid disappointment.  However, organisers say not to worry if you don't get a place straight away as they operate a waiting list and, based on previous years, a high number of places are offered to those who are on this.
Maggie Lawrie, Tri Angus Director, commented "We are pleased to announce the date for the 2018 Montrose Triathlon.  Last year's event was hugely successful on so many levels, we really have been blown away again.
"We are delighted that the event continues to attract a large number of participants from Angus as well as other local authority areas.  The bike route in particular shows off some of the stunning countryside Angus has on offer and we hope that the event will help encourage more people to visit Montrose and surrounding areas.
"We were delighted with and very grateful for the support we received from local businesses, as well as all the volunteers, without both of which the event could not run.  We are keen to speak to anyone who would be interested in supporting the event again and they can get in touch with me via info@triangus.co.uk.  We have a number of sponsor packages available with many benefits for businesses including guaranteed places at what is expected to be another sell-out event."