Innovative Food Company Backs Fast Growing Angus Event
8 March 2015:  In the week the Montrose Triathlon received its 210th participant, Tri Angus Limited are delighted to announce an exciting new partnership with Fresh Food Express.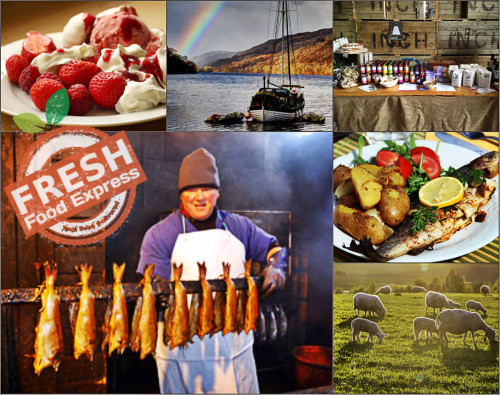 Fresh Food Express is  an exciting new online grocery that specialises in sourcing and delivering fresh local produce from Scotland, direct to your home. All of your local farmers' market favourites conveniently delivered direct to your door.
From it farm near Arbroath in Angus, Fresh Food Express works directly with local farmers, fisherman and other small food artisans sourcing the best seasonal food.
Managing Director, Jillian McEwan, commented "We are delighted to be supporting an event that is right on our door-step.  Eating clean allows you to get the most out of your body and what better way to do that than eating fresh, local produce.
"At Fresh Food Express we can supply freshly landed sustainable fish and seafood, all delivered within 24hrs. Our smoked fish (including Arbroath Smokies) are freshly hot oak-smoked to order and shipped overnight.
"All of the meat that we supply is direct from the farmer, local and high welfare. We can supply "better than grass fed" Highland Beef and free range Hebridean Lamb and Mutton, from the Angus glens. Our high welfare pork is all outdoor reared in Angus, and butchered in-house, including our unique range of Arbroath smoked bacon and gammons.
"We also provide locally grown seasonal fruit and veg boxes at the peak of their freshness, in addition to a wide selection of unique handmade products for vegans, vegetarians, and other diets (inc. gluten-free, paleo and dairy-free)".
Maggie Lawrie, Executive Director Tri Angus Limited commented, "I'm delighted that Fresh Food Express has come on board as a prize sponsor.  The benefits of eating healthily are widely reported and in sport it is particularly important to get your diet right in the lead up to an event.  We think the new partnership is a great match.
"Fresh Food Express allows you to shop locally without leaving the comfort of your own home.  I for one struggle to find the time to source my food as locally as I would like.  Fresh Food Express has  solved this problem.  We can now eat seasonal, local produce at the lick of a mouse!"
To join the Real Food Revolution visit www.freshfoodexpress.co.uk.