NEW TRIATHLON EVENT COMING TO FORFAR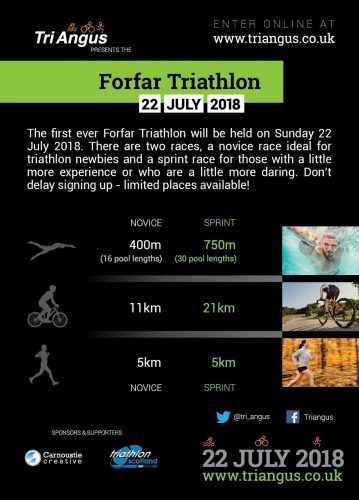 18 Dec 2017:    Following the continued success of the Montrose Triathlon, Tri Angus Ltd is delighted to announce a brand new triathlon event is coming to Angus.
On Sunday, 22 July 2018 Forfar will host its first triathlon!  The event will include a Novice race, ideal for those looking to take part in their first triathlon, and a Sprint race aimed at those with a little more experience or who are a little more daring!
The event will be based at the newly opened Forfar Community Campus, where participants will swim either 16 or 30 lengths of the pool (400m or 750m).  The cycle route then takes them through the centre of Forfar, allowing spectators plenty of chance to cheer on participants, before briefly introducing the cyclists to one of the many fabulous cycle routes Forfar has on offer on quite, country roads.  The run takes in the spectacular scenery around Forfar Loch before finishing back at Forfar Community Campus.
240 places are available for the new event and, based on the success of the Montrose Triathlon, it is thought the event will be very popular.  Entries will open on Monday, 15 January 2018 so would-be participants have plenty of time to practice their swimming, biking and running.
Event organiser Maggie Lawrie commented "We are very excited to announce our new event at Forfar.  When we set up Tri Angus in 2014 the vision was to create a series of good quality, fun and safe events in Angus.  The Montrose Triathlon, now in its fifth year, continues to grow year-on-year and we believe the demand is there for a second event.  Last year Montrose sold out within hours of opening entries in January and we had a further 165 on a waiting list.  Triathlon is definitely a growing sport in Scotland.
"Based on our figures from Montrose we expect to attract participants from all over the UK, as well as many from Tayside.  We believe these events are a fantastic way of showing what Angus has to offer. There are some amazing bike and run routes in the area, as well as great places to stay, eat and visit.  These events are a great way of attracting visitors to the local area.
"As with Montrose, we cannot run our events without the support from the local community.  We need a small army of volunteers on the day to help keep all the participants safe and heading in the right direction so would ask anyone who is keen to help to get in touch.  We also need support from local businesses so if anyone is interested in sponsoring the event I would love to hear from you.  We have a number of sponsor packages available which also include complimentary places at the event."
Entries open on Monday, 15 January 2018.  Full details of the event can be found on www.triangus.co.uk/event/forfar-triathlon.